Description
Natural gas (Liquid propane conversion kit available)
150K BTU, 24″ Penta Burner produces even flame in flower-like pattern
Available with Cast Stone (Bluestone & Chestnut), Granite (Black Uba Tuba & Venetian Gold) or Bullnose Ring (Bluestone & Chestnut)
32″ inside diameter, 48″ outside diameter, 16″ high
Shown in Sahara/Chestnut with Granite Ring Venetian Gold
CHOOSE AN OPTIONAL RING KIT FOR YOUR FIRE PIT
Designed for Olde English and Pyzique Round Fire Pits available in:
Cast Stone (3 pieces; 3″ thick) & Bullnose (4 pieces; 2 3/4″ thick) – Bluestone Blend or Chestnut
Granite (2 pieces; 1-1/2″ thick) – Black Uba Tuba or Venetian Gold
Cast Stone, Granite or Bullnose Ring has to be purchased and installed at the same time as the fire pit because of different installation requirements for these products (firebrick & heat sensitive mortar).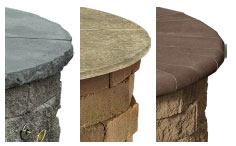 CAMBRIDGE GLASS FIRE BEADS
(Optional Glass Fire Beads needed: 60 lbs. – Round Fire Pits / 50 lbs. – Square Fire Pits)
Note: Do not cover natural gas burner completely with glass fire beads to ensure your unit will burn properly. Available Glass Fire Bead Colors are Diamond, Aqua and Emerald.